The Angus & Robertson Story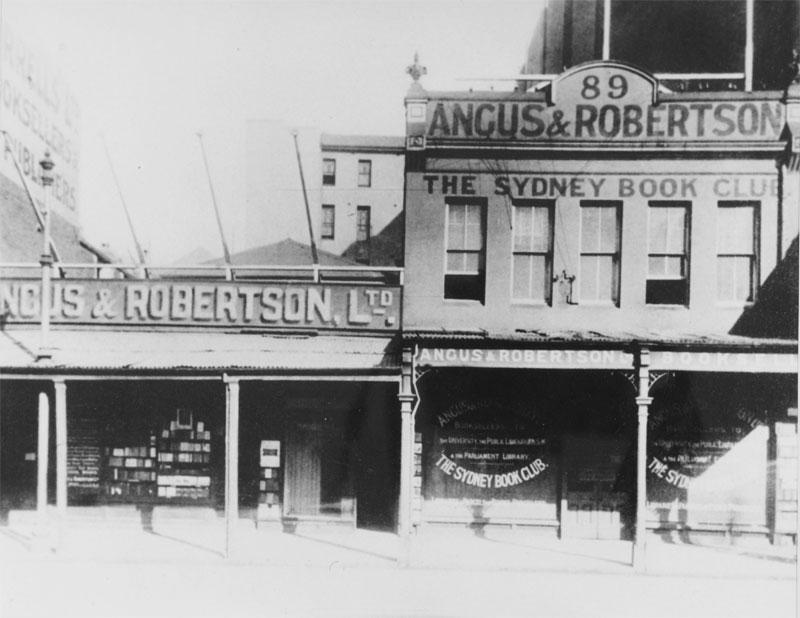 Angus & Robertson - 89 Castlereagh Street. Sydney.
Photo circa 1895.
The Angus & Robertson story began in February 1882, when a young Scotsman named George Robertson started work at a Sydney bookshop just four days after arriving in Australia. Eleven months later, fellow Scot, David Angus joined the team but after two years decided to branch out on his own. In 1884 he opened his first store in tiny premises at 110 Market Street, Sydney. From this humble start, David Angus established an enterprise that was to grow in size and influence far beyond his conservative expectations.

In January 1886 the firm of Angus & Robertson came into being when George Robertson invested his savings of £15 and joined in partnership with David Angus. By 1895 the partners transferred to a new address - 89 Castlereagh Street, Sydney. It was to be head office for the next sixty years and at one stage was known as "the biggest bookshop in the world". From these early days of the business A&R was involved in publishing as well as bookselling. The firm played a central role in the development of uniquely Australian literature and published many classics by authors including Banjo Patterson, Henry Lawson, May Gibbs, Norman Lindsay and CJ Dennis.

In 1900 David Angus, plagued by ill health, retired from the partnership to England, where he was to die soon after. George Robertson continued the business, and in 1907 the partnership was converted into a public company - Angus & Robertson Limited. Over the next thirty years A&R continued as booksellers and stationers. The end of an era came in 1933 when George Robertson died. He had been a dominating figure in the Australian book world and was held in high esteem by all that knew and worked with him.

Walter Cousins, the new Managing Director, spearheaded the growth of the company into international bookselling. In 1938 A&R opened a publishing office in London, and in 1951 a store was established in Australia's High Commission in London that was to operate for the next twenty years. In this period of growth A&R continued to acquire large and established retail bookstores in the major state capitals and in some regional centres. It became Australia's first nationwide chain of associated bookshops.

From as early as 1969 an emerging global economy and international competition placed pressure on the profits of A&R. As a result the company went through some major restructures and successive owners, including IPEC in 1976 and Gordon & Gotch in 1978. At this time A&R publishing and A&R retail, became separate companies.

In 1977 the first franchise was opened at Hurstville in Sydney, and by July of that year the company had opened eighteen new franchised bookshops around the country. With this expansion came an enhanced national marketing presence reinforcing A&R as the country's only national bookselling chain. In 1980 the A&R flagship store in Pitt Street Mall, Sydney commenced trading. The next twenty years brought growth as well as more ownership changes, including a merger with Bookworld in 1990 and purchases by Whitcoulls Group Ltd, New Zealand's dominant book retailer, in 1993 and Blue Star Group in 1996.

In 1995 A&R entered a new era with the opening of its on-line store.


In 2001, WHSmith PLC, a large UK based retailer, purchased A&R. In 2004 A&R and then sister company Whitcoulls in New Zealand changed hands again when they were acquired from WHSmith by the Australian Investment company Pacific Equity Partners (PEP). In 2009 PEP purchased Borders in Australia and New Zealand and the 3 brands came together under the parent company RedGroup Retail.

In what was regarded to be a challenging year for retail worldwide, 2011 saw RedGroup Retail go into administration, which simultaneously ended and began chapters in the Angus & Robertson story. The A&R bricks and mortar stores were either sold off, closed or became independent bookstores. All Borders bookstores in Australia were closed, which, co-incidently, reflected the fate of the Borders brand in other parts of the world. The Whitcoulls and Borders New Zealand operations returned to New Zealand ownership when they were purchased by Farmers.

In 2011, Pearson Australia Group became the owner of both the Angus & Robertson, Bookworld (formerly Borders Australia) and Borders New Zealand online businesses. On 1 July 2013 Penguin and Random House officially united to create Penguin Random House, the world's first truly global trade book publisher. As a result Penguin Australia Pty Ltd became a local subsidiary, and Angus & Robertson became a division of Penguin Australia Pty Ltd.

From the beginning Angus & Robertson has always been proud to support Australian authors and publishers, a tradition which continues in this online store some 120+ years after the first bricks and mortar store was opened in Sydney. Our local content - along with that of our international suppliers of books, ebooks and other entertainment and education products - is yours for the browsing and we're committed to continuing A&Rs long heritage of excellence in Australian bookselling.